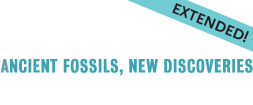 Upcoming Events
July 16 -20, July 23-27, July 30 – August 3, August 13-17, August 20 – 24, August 27- 31  Sold Out.
$224 per person, 10% discount for members

The fourth annual summer camp at the Royal BC Museum is taking on Dinosaurs! The feature exhibition Dinosaurs: Ancient Fossils, New Discoveries will allow budding paleontologists between 6 to 12 years old to discover more about dinosaurs. Campers will spend lots of time in our feature exhibition; visit behind-the-scenes, attend an IMAX movie and go on a geologically inspired field trip.

Snacks and lunches are not included.

Beginning in July, each Wednesday and Saturday at 2 pm.
Included with regular admission or membership

Tours are limited to 10 people.

Sign up begins, in-person, 1 hour prior to the tour start time.

As part of our feature exhibition, Dinosaurs: Ancient Fossils, New Discoveries we are offering a specialized tour into our behind-the-scenes labs, offices and collection areas. Discover the variety of species and storage techniques used in the paleontology collection. This tour will take you down to the basement and then up into the Fannin Tower where the earth history storage areas are located.

Sun, 26 August 2012, 1pm – 3pm
Free with admission or membership.

Have you ever wondered how dinosaurs became extinct? Explore the museum for clues. Interview a scientist. Examine fossils. Develop a hypothesis. Dinosaurs' ancient environments and fossils have left us clues about what might have happened to them. Come and see what you can discover.
Programming
EXHIBITION CLOSED SEPTEMBER 2012
Dinosaurs: Ancient Fossils, New Discoveries is a hands-on dynamic exhibition filled with lots for you to do and discover. The Royal BC Museum's Learning and Visitor Experience team has been working hard to create new opportunities for our guests to explore the exhibition and to learn more about these fascinating creatures. As always, there are plenty of family-friendly activities to do together – from a dino-themed Night at the Museum to special Wonder Sunday afternoon events.  Adults will also enjoy learning from experts and visiting behind-the-scenes. We hope you will come and take part.