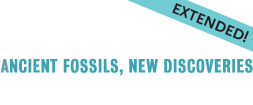 Programming
Fossil Collection Tour – Paleontology Revealed
Beginning in July, each Wednesday and Saturday at 2 pm.
Included with regular admission or membership
Tours are limited to 10 people.
Sign up begins, in-person, 1 hour prior to the tour start time.
As part of our feature exhibition, Dinosaurs: Ancient Fossils, New Discoveries we are offering a specialized tour into our behind-the-scenes labs, offices and collection areas. Discover the variety of species and storage techniques used in the paleontology collection. This tour will take you down to the basement and then up into the Fannin Tower where the earth history storage areas are located.